I am so excited to be joining up with The Educators' Spin On It and Little Wonder Days to bring you the After School Link-Up each Sunday!!
The After School Link-Up is THE place to share your posts for school-aged kids, ages 5 and up!  You can share any fun and learning you did after school including crafts, activities, playtime, and adventures!  Anything that you're doing to enrich your children's lives after their normal school time or on the weekend, we'd love for you to link!!
Each Sunday, in addition to hosting the link-up, I'll be sharing a few of my favorite posts that were shared on the After School Link Up from the week before.  So, be sure to share a post or two for your chance to featured!!
Our Nascar Adventure
This week the kids and I are happy to be tagging along with my husband on a work trip to Florida.  We left home a few days early so we could do a bit of exploring as a family before my husband will have to work.  Today we stopped at the Daytona International Speedway in Daytona Beach, Florida.
My oldest, who will be 5 in less than 2 weeks, remembers that we tried to stop here last year on a trip to Florida, and we arrived right as it closed for the day.  He was so disappointed!  But he was THRILLED that we were able to stop with plenty of time today.
We even took a speedway tour and were lucky enough to see a few race cars doing some practice laps!
He was completely enthralled with everything and asked tons of questions.
Later in the day I asked him what had been his favorite part of visiting the race track.  His little face scrunched up in thought for a few moments, and then he said, "Pretty much all of it."
I'll take that! 🙂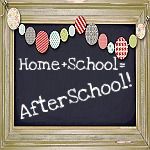 Cohosted by The Educators' Spin On It, Little Wonders' Day, & Parent Teach Play
We would love to have you link up your posts for school-aged kids (Ages 5 and up) that feature your learning after school including, crafts, activities, playtime and adventures that you are doing to enrich your children's lives after their day at school or on the weekend!  When linking up, please take a moment to comment on at least one post linked up before yours and grab our after school button to include a link on your post or site!  By linking up you're giving permission for us to share on our After School Pinterest Board or Feature on our After School Party next week! Don't forget to follow along and join our After School Enrichment Community.
Link up your After School Activities, Crafts and Adventures for ages 5+!  We'd love to see them!
This post may contain affiliate links.