We love to review kids' books and share fun go-along activities.  Here's one of our favorites: Chalk by Bill Thomson.
Chalk by Bill Thomson
This book happened to be displayed on top of the bookcase at the library, and the large green dinosaur and title written in chalk-like letters on the front drew me right in — who said judging a book by its cover was always a bad thing???
Chalk is a brand new (March 2010) children's book. Some things that made it stand out to me were that it is a wordless picture book, the illustrations are beautiful, and the story told (without words, mind you!) is both thought-provoking and imaginative. The book shows three children who walk to the playground on a rainy day. When they arrive, they discover a bag of sidewalk chalk hanging from a ride-on dinosaur. They each take turns drawing something that then becomes real. It's all amazing and fun until the little boy draws a dinosaur! You'll have to see it for yourself to find out how they get themselves out of trouble.
I love this book because I think it really captures the spirit of a child's imagination and portrays it so beautifully.
My son, who was 2.5 years old at the time we first found the book, ADORED it. I will say that he was a little afraid of the dinosaur illustrations the first few times we read it, but it didn't stop him from requesting Chalk again and again. As I "read" the book to him the first few times, I talked through the story with him, pointing to different pictures as I told the story. After a few times, he could easily do the same as he "read" the book to me.
Reading to your children is super important, but don't forget to listen to them read to you, too — they're never too young and it really helps to build their confidence and love of reading. 🙂
I think this book is appropriate from preschool through the elementary grades, and beyond.  As an adult, I absolutely love it myself!!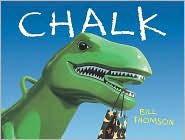 **********
Join the "Chalk" by Bill Thomson Linky Party!
See our Book Activities for Kids Pinterest Board.



If you or your child(ren) have a favorite book you'd like us to consider reviewing on our blog, please leave a note in the comments section or email me at inlieuofpreschool@gmail.com.
Have you read Chalk by Bill Thomson?  Share your thoughts about the book!
This post may contain affiliate links.